News
A lot has changed in the commercial landscaping industry over the last 20 years.  Keeping up with the latest news and trends can be time consuming for busy people like you.  Let us help you keep up to date on the latest innovations, technologies and news.   If you know of interesting news yourself, please let us know so we can share it with others.
Top Care Recognized by Missouri Governor Nixon with Flag of Freedom Award
August, 2014, Fenton, MO – The Division of Workforce Development (DWD) has recognized Top Care, Inc. with the Flag of Freedom award. Along with 14 other Missouri businesses and organizations, this recognition comes from Top Care's efforts to hire military veterans through Missouri's Show-Me Heroes program.
"These Missouri businesses and organizations are honoring the sacrifices made by the men and women of our armed services by making it a priority to hire veterans when they return home," Gov. Jay Nixon said. "Our veterans have already demonstrated their dedication, discipline and skills in serving our country, and I encourage more Missouri employers to join the ranks of those who have hired a veteran through the Show-Me Heroes program."
"It's an honor for us to hire retired service members," said Rusty White, Top Care Vice President and Chief Operating Officer. "We  find these candidates to be smart, hardworking, and team orientated – perfect characteristics of a Top Care employee."
The Show-Me Heroes program was established in 2010 by Gov. Nixon.  Show-Me Heroes recognizes Missouri businesses that are willing and eager to hire veterans. Employer participants in the Show-Me Heroes program sign a pledge to reach out to, recruit and interview veterans for job openings at their business. To date, 4,005 Missouri businesses have taken the Show-Me Heroes pledge and 6,836 veterans have been hired. The DWD is a division of the Missouri Department of Economic Development.
For more information on the Show-Me Heroes program, visit www.showmeheroes.mo.gov.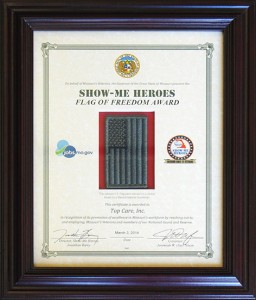 Top Care Inc. Proud to Partner with Maritz to Support and Train Students in Special School District
August, 2014, Fenton, MO – As a privately held company, Top Care Inc., has a serious commitment to support the communities it serves.  That's why it's proud to participate in the Special School District (SSD) Vocational Skills Program.  The SSD Vocational Skills Program partners with companies like Top Care, Inc. and Maritz to equip special-needs children with skills and knowledge to help them pursue future employment opportunities.
"We are privileged to partner with a great company like Maritz to support the skills development of children from the SSD," said Rusty White, Chief Operating Officer of Top Care, Inc.   "This has been an incredibly rewarding experience for our staff to watch these children blossom with confidence once they learn these new skills.  We look forward to starting back up in the fall with the launch of the new school year."
Over the past two years, Top Care and Martiz have been working with dozens of children to help them learn skills such as outdoor landscape maintenance, grounds beautification, mailroom and cafeteria duties, among others on the Maritz campus.  Students split their time between working and classroom activities.
"When you think about what a huge difference this can make in the student's lives, it's extremely rewarding," said Chick W. of Maritz.
Bill H. of Maritz also commented on the opportunity, "My hat is off to Bobbie, Lori, Chuck, Derrick, Steve, Rusty, Willie, Jonathan, Jim and Steve!  It's nice to know that in this crazy world, we still have business leaders who manage from their heart and not just for bottom line finance results."
"The patience and understanding that each of your employees had for our students, event eh more difficult ones, was simply put, AWESOME!" said Ted H. and Carrie R., SSD teachers.    "What a credit to your business philosophy!"
Other community projects for Top Care include our partnership with Mers Good Will to support its eight-week Summer Work Experience Program.  Top Care will work with two kids and one coach to perform landscaping duties.  Top Care has also worked on a campus beautification project at Marian Middle School, the only all-girls middle school serving economically disadvantaged urban adolescent youth in the St. Louis community.
Top Care Inc. Honored with Prestigious Missouri Propane Clean Award
May 2013, Fenton, MO – On Monday, April 22, Top Care Inc., one of the region's largest commercial landscaping companies, was awarded the prestigious Missouri Propane CLEAN Award.   The Missouri Propane Clean Award has been created by the Missouri Propane Education and Research Council to recognize Missouri businesses and institutions that are active in the promotion and utilization of propane-powered equipment.
"We are honored to be receiving this important award, as we take great pride in being responsible stewards of our resources and environment," said Rusty White, Chief Operating Officer of Top Care, Inc.   "Top Care has proudly been a regional leader in sustainable landscaping practices, and we are always looking for new, innovative ways to serve customers while valuing our environment." 
CLEAN represents Community Leadership in Environmental Awareness Now. Eligible Nominees for the awards are any propane dealer, equipment dealer, landscape contractor, commercial property owner or institution which has used propane-powered equipment in their business or on their property, resulting in cleaner air, cost savings or both. MO-PERC picked the winners from a variety of entries from across the state. MO-PERC is a not-for-profit organization authorized by the Missouri legislature to promote industry education, public safety and consumer awareness of propane.
"We were pleased to have participation from every corner of the state," said Steve Ahrens, MO-PERC president. "There is a growing awareness of propane's beneficial impact on air quality, and Missourians should be encouraged that their communities are taking steps to promote cleaner solutions."
Sustainable landscaping is defined by a wide variety of landscaping practices that focus on recycling, reusing and respecting the environment while providing beautiful landscapes.  Sustainable landscaping practices should be a balance of creating beautiful environments that require minimal resources including gasoline, fertilizers, pesticides and the use of human resources including time.  For more information on Top Care Inc.'s commitment to sustainable practices, visit the website at www.topcareinc.com.
Fenton landscaping firm wins environmental award – Suburban Journals
http://www.stltoday.com/suburban-journals/metro/news/fenton-landscaping-firm-wins-environmental-award/article_76cad079-9bd9-5325-af9b-59626dba60bb.html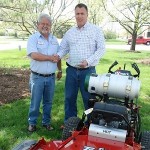 T

"Top Care's personnel are very professional and they use state-of-the -art equipment and techniques to manage the grounds cost effectively, while using environmentally sensitive methods to achieve desirable results."
Bill H., Corporate VP, Facility Manager
See more examples of our work »